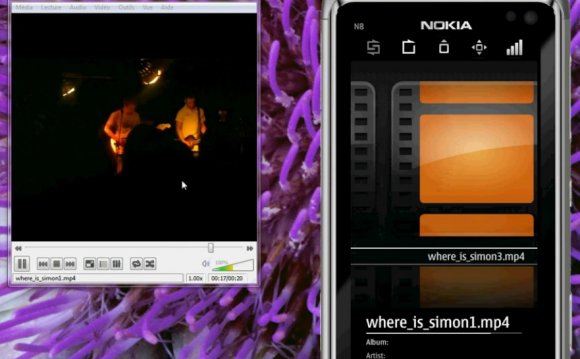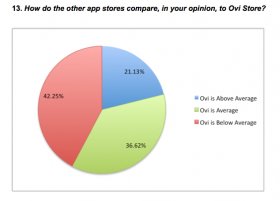 A recent developer survey from Open-First reveals that Nokia's Ovi Store is lagging in several key areas with nearly 20 percent of the participants unlikely to use Nokia's app store in the future. Although the majority of developers surveyed will continue to support Nokia's (s nok) ecosystem, more than 42 percent said Ovi is below average when compared to other app stores, such as those from Apple (s aapl) and Google (s goog). These responses indicate that Nokia doesn't only have to play catch up with its smartphone operating system strategy, but also with the marketplace that's helping to power device sales.
The survey results — available online through a Scribd document — indicate that Nokia is flagging in the areas of Quality Assurance and support communications. A full 40 percent of developers were less than "somewhat satisfied" in the overall submission and publication process used to get an app in the Ovi store, saying the process is complicated and too lengthy. Worse, a point I've made in the past: With so many Nokia handset devices, developers struggle in the management and selection of supported devices.
Some developer quotes highlight the focus points that Nokia's Ovi Store is contending with:
"When we first uploaded our apps to the OVI store, it took months for them to be available for purchase."
"Have less [sic] phone models so we wouldn't have to worry about what models support our software."
"Step by step uploading process for content — so when a step is completed it is saved and if something goes wrong you don't have to do everything over again."
"The results from the QA process can [sic] need follow-up questions and discussion, and it is not clear how to actually proceed with such issues."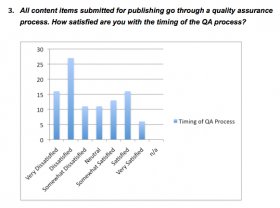 To be fair, developers have voiced similar or related complaints with Apple's own iTunes App Store process. And Google's Android Market has room for improvement as well. The main difference though is that both of those platforms have sales momentum in the high-end smartphone segment that Nokia currently lacks. Both platforms are eating away at Nokia's market share.
That aspect could partially explain why 70 percent of Ovi Store developers in the survey are creating software for stores other than Nokia. Nokia is touting plenty of easy app development methods through web standards and the Qt cross-platform framework, but high smartphone sales can lead to high software sales.
Another reason devs aren't monogamous with Nokia is the lower-than-expected return on creating software for Nokia devices: 80.7 percent of developers are earning less than they expected. Not every developer on Apple or Google devices is a success story either, but when you combine lagging handset sales and a reactionary smartphone strategy with an app store that needs development in its own right, developers are wise to hedge their bets.
Source: gigaom.com
Share this Post