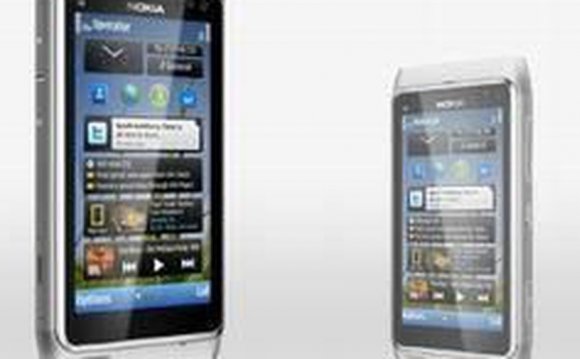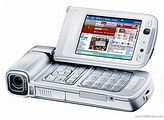 Nokia officially announced three new N-Series mobiles - Nokia N93, Nokia N73, and Nokia N72. N93 will feature a 3.2 megapixel camera with Carl Zeiss optics with an astonishing 3x optical zoom. N73 will also boast a 3.2 megapixel Carl Zeiss optics camera. Both phones will have 2.4" high definition displays. N72 will have a 2 megapixel camera and a 2.1" display.
The first of the new mobiles and the technologically most advanced is the Nokia N93. We published some pre-release photos of N93 five months ago. N93 is successor of the popular N90 and it has a lot of improvements over its predecessor. It is based on Symbian S60 3rd Edition software and one of the most attractive features is the Carl Zeiss optics digital camera offering 3X OPTICAL zoom. The phone has 50MB internal memory, as well as a hot-swap MiniSD card slot. Among the highly advertised features of the phone will most surely be its camcorder capabilities which allow it to capture DVD-like quality videos into the MPEG4 format with 30 frames per second. Those features are backed up by digital video stabilization, 20x digital zoom, autofocus and macro mode. It will have a 262K QVGA display (N90 has higher resolution display) with wide viewing angles and will support 802.11b/g WLAN, 3G (WCDMA 2100 MHz), EDGE and GSM (900/1800/1900 MHz) networks. Unfortunately, the N93 will most probably suffer the same criticism as N90 did for its large size and weight. What remains to be seen is whether the phone will also miss the vibration feature as N90 did, which would be a great disappointment to all Nokia fans.
Nokia N93
The Nokia N93 is expected to hit the market in July 2006 at an expected price of approximately 550 euros.
Nokia N73 is targeted at the camera fans and its highlight is the 3.2 megapixel camera with Carl Zeiss optics and autofocus. The camera will have a mechanical shutter and should provide real photo quality print outs of sizes up to 10" x 8" (25 x 20 cm). The mobile multimedia device will also feature a large 2.4" display along with integrated stereo speakers with 3D sound. The phone will also offer picture uploading on the Flikr photo-sharing internet community. It will support either 3G networks with a second built-in VGA camera or quadband EDGE/GSM networks and all that in a fairly compact size. Finally, this feature-packed device will be equipped with the latest version of the Symbian OS along with the 3rd edition of the S60 User Interface.
Nokia N73
It is expected be available again from July 2006 in three color combinations: silver grey/deep plum, frost white/metallic red and frost white/mocha.
The last of the pack is the Nokia N72 - a non-3G version of N70. The designs of both phones are pretty similar but the N72 will be the first N-Series mobile without a UMTS support. The 2 megapixel camera covered by an active sliding lens cover will be backed up by a built-in flash, a photo and a video editor, and a picture album.
Source: www.gsmarena.com
Share this Post