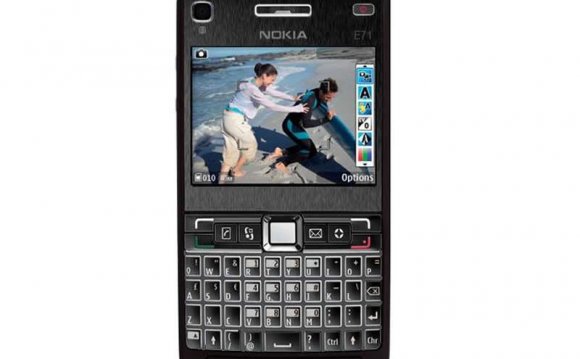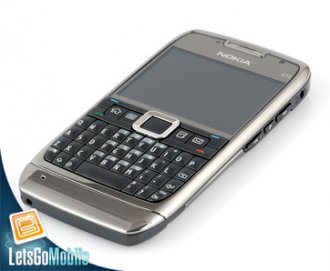 Select chapter:
Menu of the Nokia E71 handset
Nokia also chose Symbian as the operating system for the Nokia E71. Usually, this is the standard for the corporate E-series and the popular N-series of Nokia. The version used on the E71 is Symbian S60 3.1 Edition. The disadvantage of Symbian software is that it unfortunately tends to slow down the cell phone, which is what we experienced with the Nokia N96 for example. Surprisingly, the Nokia E71 doesn't suffer from any delay, the mobile phone works fast and smooth.
Nokia E71 Symbian smartphone
The menu has become more straightforward and simple when it comes down to graphics, which might be why it is faster. The structure and use of the E71 menu is similar to other Symbian mobile phones. The menu works via clear icons. In addition, installing external software is also enabled. New is the dual desktop; one for business use and one for private use. Backgrounds and shortcuts can be adjusted and added. Pressing the button on the main screen once changes the desktop. A nice addition!
Nokia E71 voice aid
T he Nokia E71 supports voice aid. Not only voice dial, as we know from many mobile phones; the E71 offers a fully spoken menu. Recent calls, contacts and, for example, the time are read out loud. This menu is available at instruments and is very convenient for someone that is visually disabled. At the same time however, I doubt whether the Nokia E71 mobile would be a convenient phone for this person.
3.2 Megapixel digital camera
The Nokia E71 phone features an integrated 3.2 Megapixel digital camera. Furthermore, the mobile phone also has a LED flash at its disposal, to enable shooting pictures in badly lit circumstances. The monitor is quite large and entirely used as viewfinder. The camera is quick in capturing a picture and the application start-up time is fast too. After capturing the picture it is not reproduced completely sharply on the screen which is rather annoying since it makes you think that you failed in capturing the object.
Taking pictures with the Nokia E71
In some cases the pictures turn out well, although certainly not always. If there is insufficient environmental light, the pictures become blurred very fast and they show a lot of digital noise. It is almost impossible, even in close-up mode, to capture an object from close-by. The camera does respond extremely fast, however, it seems like it skips focusing. In case of correct exposure and a larger distance, like a building in broad daylight, the pictures turn out reasonable. The camera leaves a lot to be desired and it is clear the camera did not have priority on this phone.
Nokia E71 Multimedia
B esides being a smooth business mobile phone, the Nokia E71 also features various multimedia applications. Media contains Realplayer, the camera, Musicstore, picture gallery, voice recorder and a Flash player. Music and video are perfectly reproduced on the E71. The media player looks fine and neat. The monitor is not that large, but is instead quite wide and this is very convenient for video files, since nowadays many wide screen films are available. The built-in speaker delivers a nice sound however, to fully enjoy your music, you ought to use the included stereo headset.
one sin and a hundred good deeds choir
how to do good deeds in islam
good deeds bye people
the sims 4 doing good deeds for others
show kid turns into dog good deeds
good deeds gone wrong
what actions counted as good deeds in everyman
let us spur one another on toward love and good deeds.
dalai lama good deeds for others
broadway show where boy gets accolades for doing good deeds
thanksgiving good deeds
good people dirty deeds nazi
bible verse doing good deeds
word for does good deeds
quote punishment for good deeds
clifford's good deeds [book]
good deeds of kane of old guy baka
drunken irish soccer fans who rampaged all over france doing good deeds
moral orel god doesn't like it when you brag about good deeds
does god notice good deeds
ledger of good deeds
be careful to engage in good deeds
good deeds feedback
good deeds wall classroom
good deeds whether get in heaven pearly gates
doing good deeds for selfish reasons
global good deeds day logo
do not do your good deeds
is good deeds a womman in everyman
quran out do one another in good deeds
tv show about teen turning into a dog and has to do 100 good deeds
viral good deeds
napoleon bonaparte good deeds
what good deeds did john thorton do for buck in the call of the wild?
verse about exhorting others to good deeds hebrews
good deeds lilburn
saved by doing good deeds
meaning of good deeds in english
george michae good deeds
serbian good deeds
the jewish requirement to love god and do good deeds
rockefeller good deeds
flaunting good deeds on facebook
the russian orthodox church and good deeds
Source: www.letsgomobile.org
Share this Post