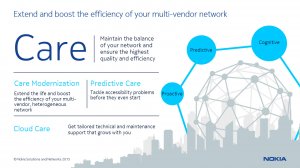 With the adoption of new technologies comes new challenges as operations and processes become more complex, requiring new skills to run multi-vendor, multi-technology solutions.
Nokia Care Services is responding by going digital - expanding our capabilities by introducing technologies such as artificial intelligence, sensors, augmented reality and virtual reality.
We are already using such technologies in our pioneering Predictive Care, powered by the Nokia AVA cognitive platform, to detect and resolve potential network and service issues before they degrade the customer experience.
Nokia AVA also powers our cloud wise Care Services to help you move seamlessly to the cloud, supported by our in-depth experience, expertise, digital tools and methodologies.
Digitalization of Nokia Care services
Delivering a flawless customer experience is vital, especially today when everything and everyone is connected by countless fixed and mobile devices. Customers expect your network to be always available, at every location.Meet these demands with the support of Nokia Care Services to help you move quickly from traditional reactive ('break-fix'), to proactive ('automatic health checking') and finally to predictive and cognitive approaches for network operation and maintenance.
Nokia Care Services enable you to implement extensive automation, redesign current tasks and processes, and take advantage of machine learning and big data analytics.
Shanghai Mobile implements Predictive Care for network elements
Maintain the balance of operators network and ensure the highest quality and efficiency. Nokia Care services range from transactional handling to advanced monitoring, troubleshooting & modernization.
Care Modernization - Nokia expert support for O&M: 95% faster RNC deployment . Automated SW upgrades: Reduce downtime by up to 25%. First Time Success Rate of 99%
Predictive Care - Predictive Care for network elements: Trouble shooting down from hours to 15 minutes, with 98% accuracy
Cloud care – Resolution Prime: a single point of contact to manage VNF incidents and outages, Turn-key Software deployments: reduces the networks outage risk by 70% . Total Care for WMWare: telco grade SLA for 3rd party services
Nokia Predictive Care solves network problems before they affect customers
During mass deployment of 4G networks in 2015, Chinese operators' network data traffic rocketed by 50%. To help manage such growth and deliver reliable mobile broadband, Shanghai Mobile and Shanghai Unicom use Nokia Predictive Care. Advanced services from Nokia Networks have helped both operators become more agile and responsive, allowing them to offer the best possible 4G experienceto their users.
Creating jointly the innovative Predictive Care system, which provides 24/7 near-real time monitoring of all Nokia and third-party packet core network elements. See the video here: Shanghai Mobile
Transforming network operations from reactive maintenance to Predictive Care for handling network issues.
Proximus enjoys Spare Supply Chain Management (SSCM) with single point of contact service from Nokia in a Multi-Vendor Hardware environment. Read the success story here.​
At the heart of our Care services are innovative processes and quality standards aimed at supporting the unique network challenges of operators, thus empowering reliable networks. Over 600 operators in more than 130 countries getting Nokia Care services. Software services are provided for 350 partner products. We've delivered professional preventative services to 170+ customers and online software services to 500+ customers, with more than 1 million online hours delivered.
Source: networks.nokia.com
Share this Post