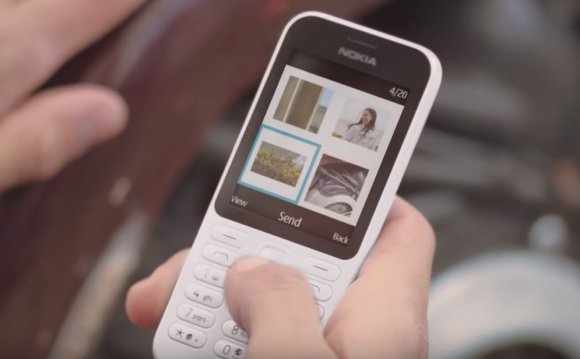 Microsoft
Today's smartphones feel like they need to be babied in every possible way just to keep them functioning, but those of us old enough to remember the days before 3G have a soft spot in our hearts for Nokia.
The Nokia 3310—and almost every device Nokia produced between 1999 and 2002 or so—was pure function over form. It was aesthetically appealing for its time, but not exactly eye-catching, and it added plenty of weight to your pocket or purse, but its shortcomings were made up for by its absolutely unflinching reliability. It was the god of all candybar phones, and today the newly announced Nokia 222 carries on its memory.
Having swallowed Nokia's phone division last year, Microsoft now pulls the strings, but the 222 actually looks like the logical evolution of those old candybar phones that we all had on our nightstands while we dreamt about Y2K.
It's an Internet-capable feature phone targeted at emerging markets, but it's also surprisingly capable. It can run Skype's GroupMe app, Facebook, Messenger, Twitter, and the Opera browser, and supports up to 32GB of storage. It's also an MP3 player and has a built-in FM tuner as well.
Want to know the best part? OK, but I hope you're sitting down. This little beauty boasts battery life of up to 29 days on a single charge (21 days for the dual SIM model). Oh, and it's priced at $37. Now take a glance at the Galaxy S or iPhone on your desk and try to tell me it's superior.
Source: www.dailydot.com
Share this Post