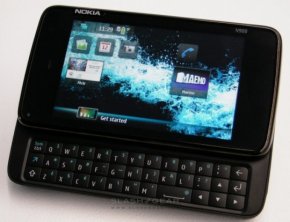 The Nokia N900 is Nokia's flagship in the smartphone market for the end of this year, 2009 and for the first 2 quarters of 2010. It is considered by many the jewel of smartphones, thanks to its Maemo 5 software. Starting off with the hardware, the N900 clearly triumphs. It has an OMAP (generation 3) 3430 processor running at 600MHz compared to the ARM11 processor (OMAP generation 2) running at 434MHz found in the N97. The 3430 is without doubt faster. The N900 also features graphics acceleration which the N97 lacks. This should be noticeable when running games or other graphic-intense applications. The N900 also features a higher screen resolution (800×480).
The N900 has included 256MB of RAM . The N900 also supports up to 768MB of virtual memory and thus has 1GB application memory available and Nokia N900 contains 32GB of internal flash memory. The amount of internal memory available to applications is in many situations more important than processor speed.
The N900 will use the Linux-based Maemo 5. S60 v5 has received some criticism for being just a port from v3 with added touch support and not really suited as a modern touch operating system. Maemo 5 is Nokia's star for 2010. Maemo 5 will feature rich multitasking possibilities and a modern user interface with 3D effects, menu transitions, etc.. Being Linux-based, in theory it also offers endless configuration possibilities and a wide range of third-party software support.
At the Nokia N900 website we are going to share with you all our knowledge on Maemo 5 phones, with apps, games, and themes. We will also share tricks and tips.
Source: nokia-n900.com
Share this Post