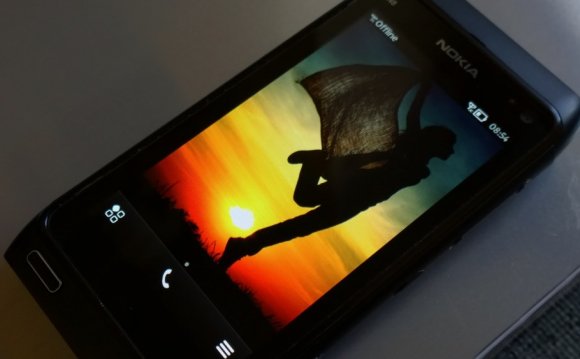 Richard Harrison, Lead Author- Richard joined Symbian (then known as Psion) in 1983 after several years teaching maths, physics and computer science. During that time he wrote a Forth language implementation for Acorn Computers, and wrote accompanying user manuals for the Acorn Atom and BBC Micro.
He has spent the majority of his time in system integration (SI), building and leading the SI team. He has produced user documentation for software for the Sinclair QL, the PC application software for the Psion Organiser I and the source code translator for the original version of OPL. Joint author of the Organiser II spreadsheet and principal designer and author of the Psion Series 3 and 3a word processors, he was also lead author of the Psion SIBO SDK team.
Educated at Balliol College, Oxford, with an MA in Natural Science (Physics), Richard also graduated from Sussex University with an MSc in Astronomy, and spent a further two years of postgraduate research in the Astronomy Group at Imperial College.
Alan Robinson- Alan Robinson joined Symbian shortly after its formation in 1998 and has mostly worked on documentation and examples in messaging and communications. Alan previously contributed to Wireless Java for Symbian Devices 9Wiley 2001) and Symbian OS C++ for Mobile Phones Vol. 1 (Wiley 2003).
A graduate of Cambridge University with a BA in literature and philosophy, he became interested in applying logical theory and took a Computing MSc at Middlesex University. he has worked on developer kits for a startup company's messaging middleware platform, and for IBM's MQ Series.
Arwel Hughes- Arwel joined Symbian (then Psion) in 1993, working on documentation for the Series 3a and also some software development. Since the formation of Symbian, he has contributed documentation and examples for Symbian OS. This is rather like painting the famous Forth Bridge: just when you think you can see the end...
Arwel previously worked on IBM mainframes in roles including programmer and systems programmer for a number of companies including GKN, Prudential Assurance, Shell and Chase Manhattan Bank. He has a BSC in Applied Mathematics from Sheffield University.
Dominic Pinkman- Dominic joined Psion in October 1995 as a technical author. he has written and maintained documentation for APIS throughout Symbian OS and was a co-author of the book Symbian OS C++ for Mobile Phones Vol. 1 (Wiley, 2003).
He has an MSc in Computer Science from the University of Kent and a BA in Modern Language studies from Leicester University.
Elisabeth Måwe- Elisabeth joined the system documentation team in 2000 and has since been designing and writing the Symbian Developer Library, specializing in operating system customization, kits, emulators, test, build and release tools. She has also been involved in training and usability management.
Elisabeth has a BA in Technical Communication/Information Design from Mälardalens Högskola and Coventry University, as well as an MA in Contemporary English Language and Linguistics from Reading University. After graduating in 1996 she worked as a technical author, information designer and web editor for various IT companies in the UK, producing documentation for both network management and market research software. She would like to thank Alex Peckover and Murray Read for providing both example code and technical expertise.
Greg Zaoui- Gregory Zaoui first joined Symbian in 1998, as a graduate software engineer with a 'licence de Mathématiques' from the University of Strasbourg. He has been working on various projects for System Integration on build tools and release management. He then joined the newly created Test Solutions group in 2002, as a technical architect for TechView and other test tools.
His interests range from skiing and windsurfing to talmudic studies. Gregory would like to thank Richard Harrison and Paul Treacy for their excellent mentoring, as well as Clare Oakley (Test Solutions manager) without whom it would be impossible to talk consistently about test tools for symbian OS. he also would like to acknowledge Elisabeth Måwe for her very active participation to the chapter, Konstantin Michaelov for his very useful example cases, Andrew Thoelke for the profiler bits, and all Test Solutions developers for their contribution. Gregory would also like to add special thanks to his dear wife Tamar for her constant encouragement and most precious help.
Nick Johnson- Since joining Symbian, Nick worked for a year in the Multimedia team helping implement next-generation Multimedia APIs and frameworks on Symbian OS and then subsequently transferred to Symbian's Marketing department, where he is now working as a developer consultant assisting Symbian partners with their Multimedia troubles.
Previous to this, Nick first spent three years studying Computer Science and Cybernetics at Reading University before subsequently spending two years working in 3D sound research at Sensaura Ltd. Here he spent time both developing new 3D sound algorithms and implementing the Xbox and GameCube ports of their cross-platform 3D audio middleware library. After leaving Sensaura, Nick spent a few weeks in the games industry working on 'Microsoft Train Simulator 2' before deciding that it just wasn't for him and instead joined Symbian.
Outside work, Nick enjoys learning Japanese and about Japanese culture, is a home cinema/film enthusiast, enjoys collecting/drinking rare liquors and vodkas and spends large amounts of time trying to convince friends that Laser Discs are still the way forward...
Richard Potter- Richard joined Symbian in the summer of 2002 as a technical author. He works on documentation for the Security and Networking subsystems and has also written some Perl and Python scripts to aid the team.
Richard's unusual route to becoming a technical author includes advertising photography, being a singer/guitarist in a rock band, an MSc in Astrophysics, and an MPhil in Experimental Particle Physics working at the Stanford Linear Accelerator Center, Palo Alto, California. Many thanks to Jelte Liebrand for his advice.
Source: www.wiley.com
Share this Post