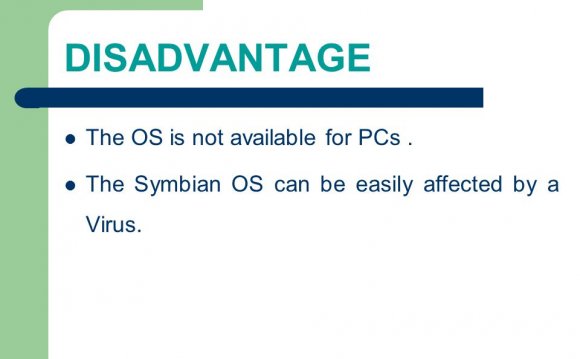 It is quite difficult to know which smartphone OS is the most efficient and will meet your needs. The similarities in terms of price, features and
innovations make the choice difficult. Here's an analysis of six most popular OS available:
IOS for Apple fans
The IOS, formerly the iPhone OS is the operating system used on the iPhone, iPad and iPod Touch.
Devices: iPhone
It will suit you if you're a fan of Apple and iTunes addict.
Advantages
Twitter is integrated directly to the OS
The iMessages, provide exclusive communication between iPhone.
Siri, an advance voice recognition software
Facetime, make video calls
Disadvantages
Facetime or IMessages are exclusive to iOS powered devices.
Android: Google's OS
Android is an OS (smartphone, PDA and mobile devices) that belongs to Google.
Devices: Samsung Galaxy, Samsung Galaxy SII or HTC sensation..
A variety of free apps
The cost of smartphones
The range of applications can still be expanded (even if it is already quite large)
Bada: Samsung phones
This new OS from Samsung unfortunately did not revolutionize the world of the smartphone operating system.
Devices: the Samsung Wave
Open multiple applications simultaneously
Very few bugs
Less prone to virus attacks
Available only on the Samsung Wave
Lack of applications
==Windows Phone 7=
Microsoft launched its own operating system: Windows Phone. The latest version is Windows Phone 7.
Fast execution
Compatibility with Microsoft Office Suite
Few applications (for mow)
Lack of multitasking
Lack of flash technology
BlackBerry OS: professional use
BlackBerry is an operating system whose main characteristic is multitasking.
Devices: BlackBerry full range
It will suit you if you are heading towards an essentially professional use your mobile (sending and receiving emails is quite intuitive).
A fast web browsing
Very handy for reading mails
Socials Feeds
BlackBerry Messenger
Symbian
Bought by Nokia, Symbian is used by Nokia, Samsung, and Sony Ericsson.
Devices: Nokia C3, Nokia X7
Reliable operating system (now 10 years on the market)
Multitasking
Source: ccm.net
Share this Post