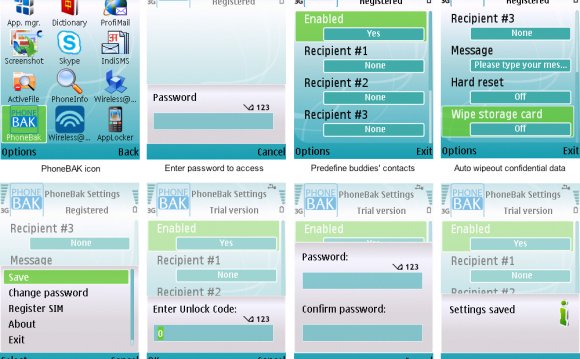 Now at this point you should have your created font folder open with the font that you moved inside. From that one font type you need to create 3 copies. Don't worry about the titles, we will change that later. Right click the font and select copy. From the edit tab on the toolbar select paste. So basically you are copying and pasting within the same folder.
Now its time to rename the files of your font. Open Y-Browser from your device. Select z:/resource/fonts. Here is where you will find the names of the fonts that are preinstalled on your device. Keep in mind that different devices have different font names. So far I've tried this on the N73 and N95 and each device has different font names.
Once you have the correct file names from your device you can now go back into your created folder on your desktop and rename the files. The titles shown above were the font types that are installed on my N95. Now that doesn't mean that this will work on all N95's because the font types might differ by region, especial the APAC region.
Once you have renamed the files you can close the window. Now its time to transfer them to your device.
This next method can be done 2 ways. I suggest using a card reader because after the fonts are installed to the memory card you can no longer use the phone in Mass Storage or Data transfer mode.
The second method is to connect your phone via USB and select Mass Storage or Data Transfer. Once connected and the file manager opens, go to your Resource Folder. This will be your E:/ drive. Open the Resource folder and copy your Fonts folder stored on your desktop to this location. Once the transfer is complete close all windows and go to the USB folder on your phone and select PC Suite mode. The reason that I do this is because it is safer to power off the device once out of Mass Storage or Data Transfer.
Power off your device and power back on... Viola!
The image on the left is from the N73. The middle image is from the N75 and the image on the right is from the N95. Now of course I'm sure that this font isn't all that, but its a great compliment to my theme!
To restore your original fonts, simply put your memory card into your card reader and open the file manager from PC Suite (if it doesn't automatically open). Go to the Resource folder and delete the whole Font folder that you created. Once you put the memory card back into your phone and power it on your original fonts will be restored.
Thanks to new blogger S60TV.com for his post and Symbian-Freak's thread for keeping me up 2 hours trying to get this to work on my N95!! Now if someone can point me in the direction of changing the Op Logo on S60 3rd edition I'd be a very happy camper!
KEEP IN MIND, WITH ANY S60 HACK, ESPECIALLY WITH 3RD EDITION YOU WANT TO BE EXTREMELY CAREFUL WHEN DOING THEM. IF YOU DON'T FEEL COMFORTABLE THEN BY ALL MEANS DO NOT PROCEED! I CANNOT BE RESPONSIBLE FOR WHAT HAPPENS TO YOUR PHONE!
Source: darlamack.blogs.com
Share this Post