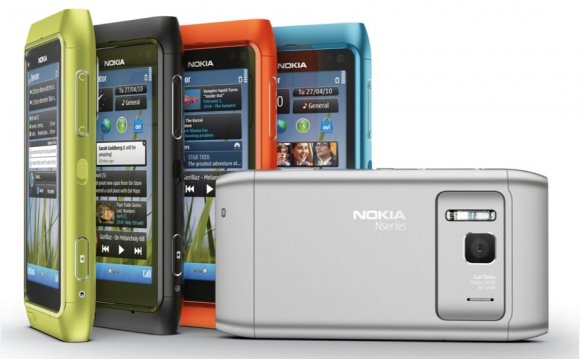 1. Symbian OS (and buggy, at that): Although the Symbian 3 OS is significantly improved from previous versions, some of the N8 menus have the same old low-end Nokia user interface feel. Due to this, at times the N8 feels like any other low-end Nokia phone when browsing some of the menus. There are also a couple of minor bugs that mar the user experience to some extent.
2. Sluggish at times: Although the N8 has a 680 MHz ARM CPU and a dedicated GPU, it still feels sluggish at times, and is slow to react to events. For example, after disconnecting a call, the screen doesn't refresh immediately and it doesn't go back to locked mode quickly, so you get confused and try to lock it manually, which only causes the screen to unlock! Similarly, the phone is sluggish while opening or closing certain applications. This is something you will never notice on an iPhone.
3. Dictionary feature is quite stupid: The N8's dictionary utility is a prime example of poor programming. This is because the dictionary setting is globally applicable across the entire device. This means that if you turned the dictionary on when composing a SMS, it will be on everywhere, even if you are typing a URL in the web browser or searching a name in the phonebook! As a result, you have to keep turning the dictionary on and off periodically.
By contrast, in my old Sony Ericsson phone, the dictionary setting was applicable only in the SMS/MMS/Email application.
Conclusion:
All in all, I'd say the N8 is good value for money considering the features it packs in and the good battery life. As mentioned, its primary USP is clearly the 12 Megapixel camera with Xenon flash and HD video recording support, which makes the N8 better than a lot of dedicated digital cameras!
The other USP is GPS support, although if you are planning to use it heavily, you might be better off buying a dedicated GPS receiver, because the phone's battery drains fast if GPS is on for a long time (due to the screen being on continuously).
As for the basic phone functionality (phone calls and messaging), needless to say, no one does it better than Nokia!
Check out: The all new Gadgets and Gaming page
Reader invite
Are you a gadget/gaming wizard? Would you like to write on gadgets, gaming, the Internet, software technologies, OSs and the works for us? Send us a sample of your writing to
Source: www.rediff.com
Share this Post