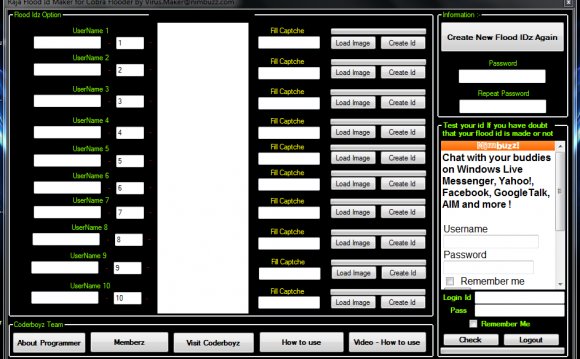 NIMBUZZ ROOM HACK NEW TRICKS
Hi Friends I wanna teach you how to get revenge from OWNERS and ADMINS and their ROOM and flood them at one time and make an explode. (For whose got harsh and kicked by the officials of the room
Follow these steps: 1. Login with bombus and join the victim room.
2. Now checked how many owners and admin in it. For example: there are two owner with the name nimbuzz2 and nimbuzz1, and one admin with name king-nimbuzz3. Notice: which owners and admins whose login with bombusmods are in the preference.
3. Now run your opera application (by mob or pc), and open 5 tabs on it and in each tab go to the address below:
CLICK HERE
4. Now in each tab fill in the blanks with your flood id information
5. Now in the 1st tab, write the first owner id (miss-nimbuzz1) in the"Target PV in Room"box. Then go to next tab and write the 2nd owner id(king_nimbuzz2), go to next tab and write the admin id(miss-nimbuzz3)
6.Do ready the next tabs for whose owners and admins that enter the room as soon as the flood start. Notice: if you have 200 ids flood, put 1 to 50(1-50) in the1st tab, 51 to 100(51-100) in the 2nd tab and 101 to 150(101-150) in the 3rd tab and keep the others for next.
7. Now every thing is ready. Start the 3 tab to flood at the same time. By this, the room and the owners and admins pvit get flood at on time. Watch as soon as 1 new owner enter the room quickly copy his id name and past in the new tabs that you make them ready before. While flooding, the owners and admins ids get dc and frezz and can't enter the room. HAVE FUN By abdisamed
METHOD TWO
1) log in with an id on BombusMod, after that set join room setting on it and hold & minimize it. now log in with that id on nimbuzz Symbian or java
2) you need add target room to joined room history for this join that room for once !
3) now go to room history and try to join Target room for 5-6 time but dont join, for this select room and after 3-4 second select cancel !! do this for 5-6 !! Don't forgot this : TRY TO JOIN, NOT JOIN !!!
4) Its time to try build target room with Nimbuzz java or symbian !! do this and minimize nimbuzz than go to bombusmod and join target room, try to join it for 4-5 time !!! after it You will owner in that room
N
TRICK how TO hang id in chatroom very fast
FIRST PROCESS ( USE SINGLE ID, JUST CHANGE RESOURCE)
STEPS:
1. open babynglier 1.7
2. click in account and edit RESOURCE= proxima-centroma
3. now save and login
4. click in conference and ROOM FLOOD, flood limits to 50 with nickname1= coolfusion
5. go back and logout. then again click in "account"
6. edit RESOURCE= 2
7.save and login
8.click in conference and ROOM flood, flood limits to 50 with nickname2= COOLFUSION
Check dis out
See STEP 4, nickname= coolfusion ( smaller case)
see STEP 8, nickname=COOLFUSION ( uppercase letter)
now just change RESOURCE each time u you login to proxima-centroma1, proxima-centroma2 etc.
and hang ids like that way .
u can hang MULTIPLE nick name by changing nick...
WARNING
DONOT HANG IDS WITH OWNER OR ADMIN OR MODERATOR IDS. ROOM WILL BE DESTROYED BY HELPBOT AT THE TIME OF NIMBUZZ UPDATE
Source: ibuzz.team-talk.net
Share this Post