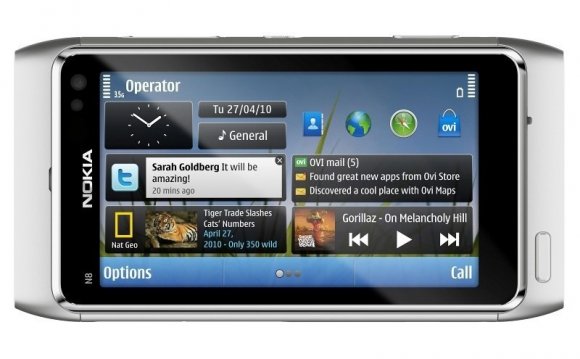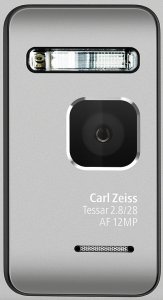 Let's run through the camera specs and features in more detail. As already mentioned, the N8's camera is one of the largest (if not the largest, optically) ever fitted to a 'phone'.
The stills camera features:
Xenon flash - the only camera flash technology worthy of the word 'flash' - the last couple of years of poor LED-lit party shots can be safely forgotten - see my feature on this. You may also remember Nokia's own Xenon versus dual LED comparisons, showing that the N86's variable aperture lens can, with the LED, produce comparable results to Xenon in the right situations. All good stuff, but most low light shots aren't in 'right' situations: people will be moving and you'll need a lot more than sheer illumination - you'll need something that shoots far more quickly, so that your subjects are frozen in time. Hence Xenon. No offense, N86...!

Very large sensor (rated at '1/1.83"' optical format). Previously (e.g. in the N86) Nokia had been using the smaller '1/2.3"'. Many compact digital cameras are still currently using 1/2.3" in fact, putting the N8 ahead of these in terms of sensor, even if not in terms of lens size and optics (phones have to be somewhat thinner, after all!). Individual sensor pixels are apparently 47% bigger than those in competing 12mp camera phones.

Carl Zeiss 2.8/28 optics (the '28' bit refers to equivalent 35mm focal length - don't worry about it). The protective glass has an anti-reflection coating, plus is toughened to resist scratching (I'm thinking Gorilla glass here, but don't know for sure). Nokia had considered including a physical cover, as on the N82, N95 and N86, but rejected the idea because of bulk (another 3mm would be needed, i.e. a bulge) and, interestingly, because more and more software is requiring camera access (e.g. augmented reality) and the apps need the picture immediately, without a need for the user to remember to retract a slider.

Fixed aperture lens. The (experimental) variable aperture lens used in the N86 8MP added extra bulk, but the N8 is claimed to have even better low light performance than the N86 (even ignoring the Xenon flash), thanks to a more sensitive sensor. The problem of shooting in bright light (e.g. direct sunlight), which was handled spectacularly on the N86 by reducing aperture size, is handled on the N8 equally as effectively with a ND (Neutral Density) filter that automatically slides into the optics when light levels exceed a certain threshold.

Extra software enhancements. With the larger sensor and better optics, there was less need for Nokia's traditional noise reduction algorithms, with the result that more of the phone's processing power could be applied to real time image handling. Red eye reduction is implemented as well as on standalone digital cameras and face detection is much faster than on the N86. Auto-focus times are also significantly better than on anything seen so far from Nokia, "reducing auto focus on a typical still image to about around half a second or less". Shutter release latency is also improved and is now down to "about 150 milliseconds".
Source: www.allaboutsymbian.com
Share this Post