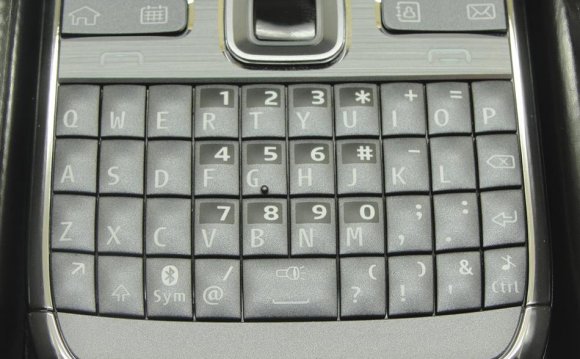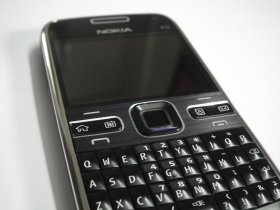 The Nokia E72, released in 2009. (Rameshng/Wikimedia Commons)
His partner, Jan Koum, totes this old thing:
The Nokia E5, released in 2010. (John Karakatsanis/Flickr)
WhatsApp's founders aren't Luddites. They also carry other, more modern phones. But the pair—spotted carrying these phones by Tim Bradshaw, a San Francisco-based reporter at the Financial Times—understand that despite the great growth numbers and sales figures of smartphones, older, clunkier phones still rule the world. And they aren't going away anytime soon.
Take the S60 operating system on which Koum and Acton's phones run. Nokia created it, but no longer supports it. Yet it remains one of the most widely used in India, according to Kavin Mittal, who runs Hike, an Indian messaging app that allows messaging between smartphones and feature (i.e. non-smart) phones too, using ordinary text messages. To crack markets like India, makers of apps must go beyond the worlds of Apple's iOS and Google's Android operating systems and look at what people are actually using.
Though WhatsApp doesn't work on the most basic phones, it is rare in that it works on pretty much all types of smart (or smart-ish) phones—not only iOS and Android, but also BlackBerry, Windows Phone and Nokia's S40 and Symbian. That is one reason why it has reached 450 million users. Zomato, an Indian restaurant-finding app that is now expanding abroad, has the same philosophy: It is available across every platform imaginable. Another example is
Consider these numbers: Smartphone penetration in India remains under 10%, according to Macquarie, an investment bank. Fewer than 5% use 3G. In Indonesia, the world's fourth-most populous country, barely one person in five has a smartphone. Even in China more than half of the population uses more basic phones. There remains huge opportunity in these markets, and it's looking increasingly like the winners will be local players. Phone-makers Xiaomi in China and Micromax in India have both eaten up chunks of the the local market, and there seems to be a similar trend in software.
Source: qz.com
Share this Post