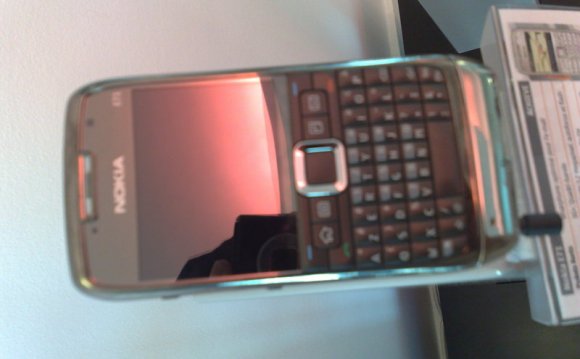 Just to make sure people see this: you should get this phone!!!
Before owning many phones I was finally looking for an awesome phone that will have everything, not feel plastic and cheap and will last many years. So I started reading reviews and stumbled on review where two gigantic sellers were compared: iPhone and Nokia E71 - yes - those two were compared. I kept reading the article because I wanted to find out what actually can be compared among two very different phones (yes E71 is thinner than iPhone) :) ... anyhow, I continued reading and pretty much that review has made my decision very final: NOKIA E71 here I come - that was summer 08 or 09 (not sure) ... Anyhow, I have used my phone for about year and a half, and during that time I convinced my wife to get it as she wanted something of quality; not only she got it but we bought one for my brother in EU. I wanted to move to Android and got myself different phone, sold my E71 but my wife and my brother still use E71. My wife accidentally dropped it a dozen times (I know, no comments needed lol) and it finally gave up. Guess what, I just got her another brand new one for $155 on eBay. She simply did not even consider different phone.
Phone simply has following: Great speakerphone, great call quality, great built quality, very fast OS, do not expect miracles as the OS is made for smartphones such as E71 - no touches needed. Apps are available for it but this phone having small screen 2.6 cannot be compared in that area with any other smartphone on the market these days. I had Garmin XT installed on all three phones and it worked like a charm. It has loud speakerphone which helped in guidance with voice - where screen was just enough to see that big arrow where to make a turn when voice is telling you to do so :) ... Anyhow, if you are not touchscreen fan and do not care much about browsing capability, you should get it... Camera photos are decent, nothing special during the night and some off-set coloring during the day - for thinner than iPhone phone E71 takes the win home.
Who do I really recommend this phone: to someone who owns a tablet. Tablets are made for browsing and everything else, but for phone conversations this phone makes it perfect solution and combination...
One last thing which may be the best out of all (that are near perfect as well): BATTERY IS FREAKING AWESOME!!! You will forget what day did you charge the phone. It lasts 7-10 days EASILY. No matter what you do to it, it will last at least a week. I had hours of conversation, lite GPS Navi usage, texting, nope - nothing kills it... FYI if you want to use Garmin XT Navi I recommend you get car charger as you will need it.
Source: www.ebay.com
Share this Post